Kokyo Marathon
Race: (9-12:AM Event from 9 to 12、14-17: PM event from 14 to 17)
Month
Event

31(Sat)  9-12 (AM)37th Kokyo Marathon

14(Sat)  9-12 (AM)38th Kokyo Marathon

5(Sat) 9-12 (AM)40th Kokyo Marathon

9(Sat) 9-12 (AM)41st Kokyo Marathon
30(Sat) 9-12 (AM)42nd Kokyo Mararathon 

7(Sat)  9-12 (AM)43rd Kokyo Marathon
28(Sat) 9-12 (AM)44th Kokyo Marathon

5(Sun)  9-12 (AM)45th Kokyo Marathon
25(Sat)  9-12 (AM)46th Kokyo Marathon
Kokyo Half Marathon(Imperial Palace Half Marathon)
Kokyo(Imperial Palace) is located in center of Tokyo and famous for natural beauty like trees, birds and silence. Our event is frequently organized to check conditions every month or welcome tourist runners from other city in Japan or abroad.

Runners can start race after start time when they like because of chip timing(Net timing). But Timing service finish at 12:00 pm for mornong race. And at 17:00 at in after noon race.
There is some other running event around Kokyo but we are probably first to provide chip timing service because of strict security rule around Kokyo.

About Race, we are providing overall place, Place by gender and age group every five years old.
Our finisher certificate is available only online as follows. No paper certificate.
Race:
-Half marathon is available(21.0975km).4 lap around Imperial palace.
-10km Race 2 lap around Imperial palace.
-5km Race   1 lap around Imperial palace.

Casual event. Average 80-130 Participants each month. 65% are half marathon runners.
※There is no award ceremony. Result is announced on the web.
※Finisher mug cup is available only for half marathon finisher with "finisher mug cup" option. It would be sent in two weeks after the race.
※Finisher Mug Cup is only for Finisher. If not reach finish, we would add official point available for one year period. Finisher Mug Cup is non refundable also.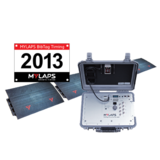 Our chip timing equipment is by mylaps.
It is authorized by Japan athletic association also.

Mylaps tming chip is world famous and used at major big event like Rotterdam, Honolulu, Chicago and Hong Kong marathon and others.

Chip is disposable and no need to return.
1. Entry on web site.
2. Receive race pack at start.
3. You can start race after 9:00 when you like. Be noted chip timing service finish at 12:00/
4. Run race course 4 lap(1 lap 5km).
5. Chip timing service finish at 12:00. It is race time limit(AM race). For after noon race, race finish at 17:00.  

Finisher Certificate/Award ceremony
Our finisher certificate is online. It is integrated with facebook.
There is no award ceremony.

Also if runners cheese "Mug Cup" option when register, we would send mug cup in two weeks with your name and result as Souvenir.(Mug cup design might be changed).  Finisher Mug cap would be send by mail in two weeks.

Sample Online Finisher certificate
Half Marathon : 4 Lap Course + 1.0975km
S(Start) Nearest Subway Station; Tozai Line Takebashi Station
              (1 min walk from Exit 1a)
G(Finish):Opposite side of Police box.
              Nearest Subway Station:Hanzomon station( Hanzomon line ), Sakuradamon station(Yurakucho line)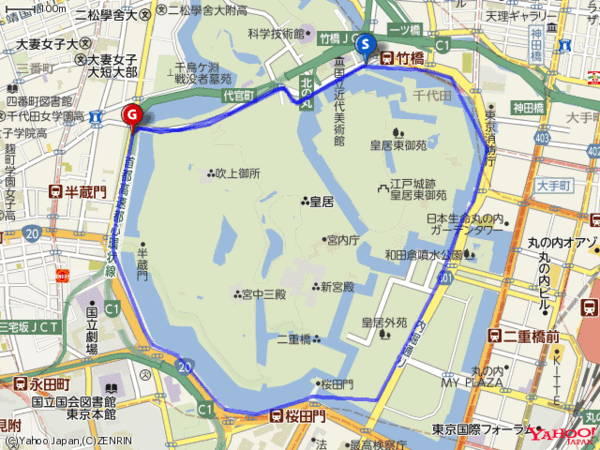 Course(10km) : 2 Lap Course
G(Start) Nearest Subway Station; Hanzomon Line Hanzomon Station, No5 Exit
              (5 min walk from Exit 1a)
G(Finish):Opposite side of Police box.
              Nearest Subway Station:Hanzomon station( Hanzomon line ), Sakuradamon station(Yurakucho line)
Course(5km) : 1 Lap Course
G(Start) Nearest Subway Station; Hanzomon Line Hanzomon Station, No5 Exit
              (5 min walk from Exit 1a)
G(Finish):Opposite side of Police box.
              Nearest Subway Station:Hanzomon station( Hanzomon line ), Sakuradamon station(Yurakucho line)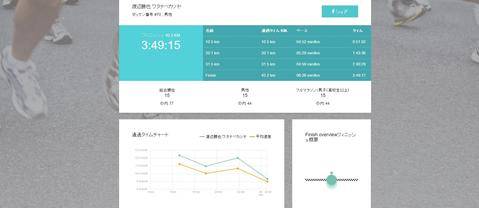 Event Record
(Half Marathon)
Men       1:23:27 Riku NAGATA (13rd Kokyo Marathon)
Women   1:26:37 Sonoka NAKAYAMA (10th Kokyo Marathon)
Sorry, there are no products in this collection
Organizer:Kokyo Half Marathon Organizing comittee
Address: Resona Kudan Building 5F KSfloor, 1-5-6 Kudan-minami,Chiyoda-ku,
Tokyo,102-0074,Japan
c/o DELIGHT Corporation
Email:[email protected]
TEL. +81-50-3101-7125